SUNIL GAVASKAR
He taught the country to dream big faced fast bowlers with solidity and assurance and made century scoring a habit.
Mr. Concentration was one of the most difficult batsman to dislodge.  A scholarly approach with perfect technique, stood up to the fiercest attack unflinchingly and that too without a helmet. He looked pretty determined to whom loosing his wicket was like committing a sin. An astute judge of a run he was a statistician's delight as records tumbled when he batted. A champion at drawing matches his education got reflected in his batting.  Had a sincere and workman like approach to batting and played the game like an accountant.  The Risk Percentage in his game was almost non existent. Gavaskar by far had the best footwork against spin bowling and was always quit sure when he danced down the wickets to play his strokes.
He was quite predictable in his approach to batting. First one hour to the bowler with a couple of copy book shots and play the bowling without taking any risk for rest of the day. The element of brilliance, aggression or excitement was missing.  He rarely scored at a breakneck speed hence was not quite an entertaining batsman. He could put the shutters down and go on without runs for quite some time hence was never a match winning batsman.  This explains why only 6 out of his 34 centuries were for a winning cause and 19 of which were made in drawn games.  Not a player I will drive miles to watch.
Will always feature as the best opening batsman in the list of most except a Bradman  for he never played his cricket like an Australian – Aggressively. Takes the cake, for his Determination, Concentration and more importantly using his bat even on the worst turner as the first line of defense. His best innings was the last innings of his career against Pakistan on a vicious turner.
A smart person who would have been successful even if he was not a cricketer.  Had his differences with the Cricket Board, Bedi, Kapil and Vengsarkar, Controversies surrounded him but tackled them with ease of a master politician.
GUNDAPPA VISHWANATH
The touch artist with unmatched god given talent who made batting look the simplest of all the jobs in the world.  No batsman worth his salt except perhaps David Gower, had so much of time to play the ball .  He never hit the ball but just requested to go away from him such was the feline grace.  An absolute Genius whose batting was a joy to behold.
Excelled on difficult & bouncy wickets and against the best of the attacks.  Played when all others, failed and was in true sense of the word a match winning batsman.  Since his debut has also saved many a matches for India.  When it comes to batting like a millionaire under all circumstances and entertaining the crowd Vishy stood tall amongst his contemporaries.
Vishy was easily one of the best starters in the game. Even if he had played fewer balls he gave an impression that he was on the wicket for ages.
The amount of risk he took while batting was enormous.  He was unstoppable when on song.  This explains why he won matches for India.  In fact India never lost a match when Vishy made a major contribution. The late cut, square cut, midwicket flick, paddle sweep, cover drive and the half cut – half drive strokes of the highest quality just flowed from his blade.
I did buy the ticket in black to go and watch him. It was quite a sight when he pierced the field making mockery of the field placements. 5000 out of his 6000 runs were scored without a helmet. I very well understand why Roberts, Lillee, Gavaskar, Kapil, Ravi Shastri, Srikhanth and Mohinder rate him the best Indian batsman on a difficult wicket. Even Tony Greig voiced the same sentiments.  He always used the bat as the first line of defense.
Vishy was never dismissed in an awkward fashion as he played pace and spin with equal ease.   A great team man who earned respect of his peers not only for his excellent batting but even for being a sportsman beyond compare.
SACHIN TENDULKAR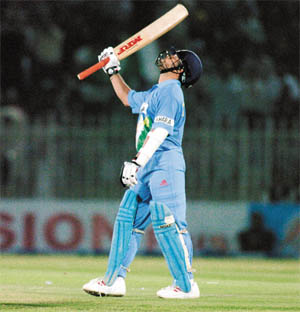 Who can deny that he is India's best batsman ever?  His records speaks volumes about his achievement. A Special creation of God born only to play cricket. What often gets overlooked is his ability as a bowler. Be it a test match or a one day affair the ROI for the spectators is very high when Sachin is batting in full flow. An outstanding judge of a run his bating is a fine blend of science and art. He is essentially a dominant player who for his injuries has gone into a defensive shell there by constantly posing a question to himself if he is an aggressive player or a defensive one.  Having played cricket for 19 years has taken its toll.  Moreover throwing from the deep all the time has also had its impact.  He is revered as a cricketer not only for his superior on the field skills but even as a gentleman to the core.
Sachin will always be remembered for his deeds on the ground and even if one wants to forget such are the imposing statistics that you will never be allowed to do so.  His boyish charm, impeccable manners, controversy free nature makes him equally affable off the field.  The manner in which he has handled the Media arch lights and the expectations of the million of cricket crazy fans makes him all the more adorable.
The cricket that I have followed for the past 38 years prompts me to state that Sachin is the most unlucky batsman when it comes to getting wrong decisions.  Though Steve Bucknor is the torch bearer the others are not far behind.
Though he handles both pace and spin with equal élan I strongly feel he is a better player of fast bowling than spin (Warne in all probability will disagree)  He is also a shade tentative against the incoming ball in the early part of his innings and also has a tendency to use the pad as his first line of defense.   Given his talent I would also like to see him play many a match winning innings in test matches.
Not being quite a statistic crazy follower I trust my naked eye more than anything else thus Sachin in my books is the greatest Indian Batsman I have ever seen.
Though he is playing one day cricket at his very best as a true well wisher of Sachin. I feel he should concentrate only on test cricket with immediate effect and put the country and himself on such a pedestal that others will not even dream of going any closer.
RAHUL DRAVID
Mr. Dependable, is undoubtedly the good boy of Indian Cricket. His walk to the crease reminds me of a student who is appearing for the most difficult paper of his final exam.  A model batsman who is also the most difficult batsman to dislodge in contemporary cricket. He will put a price on his wicket and make life miserable for the bowlers.  Having played his cricket in the one day era has made him more strokeful. This explains why he has played many a match winning innings for India. I will not be surprised if he has the best average amongst all the Indian batsman when he retires. Like Vishwanath one of the most selfless cricketers this country has ever produced.
He his more of hard work than flair with matchless power of concentration. His patience are monumental and like a wise student will never repeat the same mistake again.
Dravid is one Indian batsman who has quite an enviable record overseas. In fact most of his big innings have either brought in victory for India or have helped in drawing the game. Dravid is by far one of the best and safest catcher India has ever produced easily in the league of the legendary Kapil and the stylist Azhar.
Dravid does use the pad as his first line of defense at times and pays heavily for it. He could have added many more runs to his existing tally but he is not an astute judge of a run.  In fact has got run out often in the shorter version of the game.  His tendency of not grounding the bat does him no good.
Dravid is quite a lovable and likable cricketer. His commitment to the game and towards the team can never be doubted. He is a team man par excellence.
In my books had he opened regularly for India he would have been an 11000 plus runs batsman for purely in terms of technique and temperament he is very close to Sunil Gavaskar.
You don't associate the words versatile, talent and dynamism with Dravid they get substituted by security, safety and reliability and trust me both attributes are important to achieve success at the highest level.