By Bipin Pandit
G.R.Vishwanath, the batting maestro completed 60 years on 12th February, 2009. The BCCI thus couldn't have found a better moment to honour the batting genius for his stupendous achievements with the C.K.Naydu Life time achievement award comprising of a Trophy, Citation and 15 lakhs.
The award was presented at a glittering ceremony held on Wednesday, 18th February, 2009 at the Taj Lands End. As the maestro walked on to the stage the entire audience stood up to give a standing ovation to the legend be it Sachin Tendulkar, Gavaskar, Bishen Bedi, Vengsarkar or Wadekar or the entire Dhoni led Indian team. The audio Visual displayed some artistic strokes of the classical batsman played in his prime.
As I stood up to applaud the supreme touch artist my mind went down the memory lane.
It was way back in 1972 that I first saw Vishy bat at the Brabourne Stadium, CCI , against the English team led by Tony Lewis. Vishy smashed 113 runs with no stroke in the book being left unplayed. He was never a great hooker but on that day he essayed this difficult shot and send Chris Old's short pitched delivery in the CCI swimming pool.. The ever popular tall and lanky English cricketer Tony Greig lifted Vishy in his arms post registering that century. It was his way of congratulating the rising star and the spectators loved it.
Vishy in the subsequent years went on to play many an impactful innings that either helped India to win matches or draw them. His 137 not on debut against Australia at Kanpur , his 75 not out again at kanpur and 113 at Lords both against England, 83 and 79 at Christchurch against a rampaging Sir. Richard Hadlee helped India to avert defeat. However it was always match winning innings with which people associated the legend. Some of his superlative efforts on that front were 97not out and 131 at Chennai, 139 at Calcutta and 112 at Port of Spain against the West Indies, 114 at Melbourne and 47 not out at Delhi against Australia, 79 not out at Banglore and the little gem of 33 at oval against England.
Vishy's batting was all grace and elegance. He I gather must be asking the ball after hitting it weather I have hurt you? Such was the feline grace. I would compare his batting with the Tabla play of a Zakir Hussain or a classical rendition of Pandit Bhimsen Joshi. Vishy always batted when India required the runs very badly. He loved crisis and excelled when confronted with it.
Vishy was one of the finest starters in the game. He would play the first ball as if he had been on the wicket for ages. There were no edges, tentativeness was a word unknown to him and never was he caught in two minds. Strokes of the highest quality flowed from his bat right from the word go. Such was the self confidence that late cut was played even to likes of Roberts and Thompson.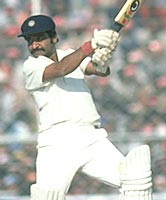 Ask me which Indian batsman had maximum time to play the ball? Ask me which Indian batsman was the most graceful that I have seen? Ask me which Indian batsman's batting gave me maximum joy? Ask me which Indian batsman played the rising ball the best? Ask me who would have been my first choice as a batsman on a difficult and bouncy track? Ask me which Indian batsman had the talent to play the most unique strokes on the cricket field? The answer to all these questions is G.R.Vishwanath.
Ask me a question if on a given day Sunil Gavaskar is batting at his best at the Wankhade Stadium, Sachin Tendulkar at the Brabourne Stadium and Vishy at the D.Y.Patil Stadium whom would I prefer to watch than my answer is I will take all the trouble to drive down to the D.Y.Patil stadium to watch the mercurial G.R.Vishwanath. I will even pay a premium on the ticket to do so.
I had the privilege to meet Kapil Dev, Ravi Shastri, Mohinder Amarnath, Kris Srikkanth at different forums and they very proudly stated that Vishy was India's greatest batsman on a difficult wicket.
Anshuman Gaekwad , Gavaskars opening partner once stated that while Gavaskar was a great batsman on a good wicket Vishwanath was a great batsman on a difficult wicket. A fact duly endorsed by Dennis Lillee, Andy Roberts and Tony Greig. Mind you Vishy also got his first 5000 runs without using a helmet.
Gavaskar and Vishwanath are two different players both great in their own way with contrasting batting styles but the irony is they have only four century partnerships in more than a decade they played together. Both have tremendous mutual admiration and have gone on record acknowledging the superiority of the other.
Azhar and V.V.S.Laxman are two players who are wristy and play the same brand of cricket as Vishy but both of them are not as masterly and well equipped as Vishy when it comes to handling a truly lethal attack and especially so on a difficult track. He was much superior to the rest of wristy batsman from all over the world.
Vishy never chased records. He played the game to give enjoyment to others and in the bargain enjoyed himself thoroughly. He was a true sportsman. I doubt any cricketer from India commands such respect.
Vishy was never Media savvy in fact despite being in the limelight he consciously stayed away from the arch light. Those who have written today are all his ardent fans who loved his batting and respected the dignity with which he played the game.